Release wax
Release agent for epoxy and polyester resins
Properties:
Sprayable solvent-based release agent. Dispersion of waxes in a mixture of solvents, free from silicone!
Advantages:
Excellent release
Minimal cleaning stops
Easy handling
Economic in use
Processing: The content of the drum must be well stirred before and during use. The release agent should be at room temperature before processing. Before the first coating is applied the mould should be cleaned carefully. The release agent can be applied by hand (paintbrush/cloth) or by spray gun.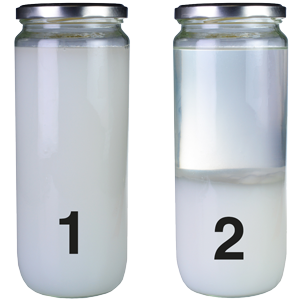 The picture shows the importance of homogenizing liquid release agents well before processing:

1.) Thoroughly stirred or shaken

2.) After a few days of rest, the active ingredient settles and the solvent separates to the surface. If the two are not thoroughly mixed again before processing, there is a risk that almost only solvent will be applied during application. The separating effect is then correspondingly poor or does not occur at all.


Before polishing the mould surface the release film has to be dried. New or cleaned moulds should be sealed with the Release Agent 5 - 6 times before filling the mould to give a good base coating.
Important note on substrates:
This product contains solvents based on hydrocarbons (see under Additional Information --> Safety Data Sheet). It also contains a small amount (< 2 %) of aromatic hydrocarbons. Some surfaces made of plastic (e.g. polycarbonate, Plexiglas®, various varnishes, putties) are dissolved by it so that an impression cannot be taken. It is essential to check this before use, either by referring to resistance lists for the materials or by carrying out a preliminary test.

For sensitive surfaces, we alternatively recommend PARTALL® Coverall Film PVA from Rexco.