Release spray TRS, 400 ml
External release agent for epoxy and polyester resins, PMMA and polyurethanes
Easy to polish, soft release wax for spray application (max curing temperatures of 120 °C)
Silicone-free
Application
Suitable substrates: practically all smooth surfaces such as plastic (GFK), metal and glass, but also porous and absorbent materials such as wood, gypsum and moulded ceramics, if multiple coats are applied. However, absorbent surfaces are difficult to mould if the resin can flow into the pores and anchor mechanically.

Release Spray TRS is also ideal for making surfaces of silicone rubber wettable. In addition, the release spray acts as an insulating layer and extends the durability of moulds, especially when working with epoxy resins.

The fine spray facilitates applications in complex, multi-angled moulds. The release spray can also be used as a sliding layer by multiple spraying without intermediate polishing. This is necessary, for example, when manufacturing wound components such as cylindrical tubes in order to be able to pull out the winding cores again.

Processing
Shake can well before use. Spray from a distance of 20 - 30 cm. In hard-to-reach areas, it is also possible to spray at an angle or overhead for short periods.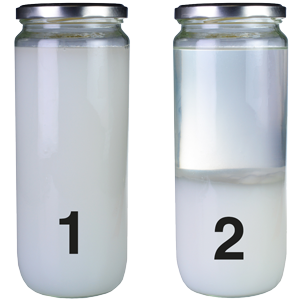 The picture shows the importance of homogenizing liquid release agents well before processing:

1.) Thoroughly stirred or shaken

2.) After a few days of rest, the active ingredient settles and the solvent separates to the surface. If the two are not thoroughly mixed again before processing, there is a risk that almost only solvent will be applied during application. The separating effect is then correspondingly poor or does not occur at all.
New moulds are treated 2 - 3 times, with each coat lightly polished by hand with a soft cotton cloth immediately after application. A matt surface is desirable. We do not recommend high-gloss polishing, as this removes the film to such an extent that the release effect may fail.

Allow to flash off for approx. 30 minutes on silicone rubber, then the surface can be coated e.g. with EP gel coat without forming eyes.

Remnants in the mould can be removed with white spirit or mechanically with steel wool.

Physical-chemical characteristics

Shape: Aerosol
Colour: White
Odour: Characteristic
Density at 20 °C (DIN Norm 51757): 0.64 g/ml
Active ingredient content: 2.95 %.
Flash point: > -97 °C
Viscosity at 20 °C (outlet cup 4 mm DIN EN ISO 2431): < 59 sec

Storage temperature: Between 10 °C and 30 °C
Important note on substrates:
This product contains solvents based on hydrocarbons (see under Additional Information --> Safety Data Sheet). It also contains a small amount (< 2 %) of aromatic hydrocarbons. Some surfaces made of plastic (e.g. polycarbonate, Plexiglas®, various varnishes, putties) are dissolved by it so that an impression cannot be taken. It is essential to check this before use, either by referring to resistance lists for the materials or by carrying out a preliminary test.

For sensitive surfaces, we alternatively recommend PARTALL® Coverall Film PVA from Rexco.