Release agent Semiperm™ Monofilm
Universally applicable liquid external release agent, solvent-based and with short drying times.
Heat resistant up to 140 °C
Solvent-based
Multi purpose-product
Semi-permanent: multiple releases per application
Raise mould temperature to increase slip effect
Silicone-free formulation
Short drying time
Renders time-consuming wax and polishing cycles unnecessary
The use of this product eliminates the need for repeated time-consuming waxing and polishing, as a single application allows, after some starting time that demands the frequent treatment of the mould, several demouldings.
Release agent Semiperm™ Monofilm forms a monomolecular film that adheres to the mould and does not show any affinity to the moulded parts.
Release agent Semiperm™ Monofilm is silicone-free and suited for the purpose of the processing of thermosets like polyester (cold and hot moulding), epoxy and phenolic resins. In particular, when the processing takes place at elevated temperatures (> 50 °C), flawless results are obtained.
Processing:
Release agent Semiperm® Monofilm should be stirred up or shaken prior to use.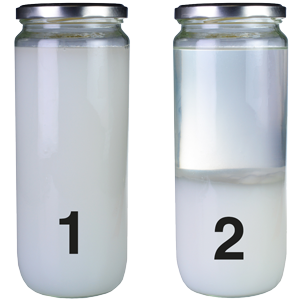 The picture shows the importance of homogenizing liquid release agents well before processing:

1.) Thoroughly stirred or shaken

2.) After a few days of rest, the active ingredient settles and the solvent separates to the surface. If the two are not thoroughly mixed again before processing, there is a risk that almost only solvent will be applied during application. The separating effect is then correspondingly poor or does not occur at all.
Prior to the first application of the release agent Semiperm™ Monofilm, the moulds have to be cleaned thoroughly from residues of dirt and former release agent. The next step is to apply release agent Semiperm™ Monofilm as an even, thin film and allow it to dry. The application can be done either by spraying, wiping or brushing. After a short flash-off time of 1-2 minutes, the mould surface can be polished with a lint-free cotton cloth to a high gloss finish. Repeat this procedure 4-5 times at new moulds. Before starting the production, ensure that the film is absolutely dry.
Consumption:
25-30 g/m²
Please note:
If used in the processing of prepregs, we highly recommend doing preliminary testing, due to the often high pressure used there is a risk that the release agent is going to be damaged mechanically. Thus, the demoulding can be made difficult or even impossible. The same applies to press-moulded parts (mould and counter mould) when processed with high pressure.
Important note on substrates:
This product contains solvents based on hydrocarbons (see under Additional Information --> Safety Data Sheet). It also contains a small amount (< 2 %) of aromatic hydrocarbons. Some surfaces made of plastic (e.g. polycarbonate, Plexiglas®, various varnishes, putties) are dissolved by it so that an impression cannot be taken. It is essential to check this before use, either by referring to resistance lists for the materials or by carrying out a preliminary test.

For sensitive surfaces, we alternatively recommend PARTALL® Coverall Film PVA from Rexco.
The release agent Semiperm™ Monofilm is suitable in combination with PARTALL® Coverall Film PVA as a safe release agent for silicone moulds. This combination provides a barrier layer so that casting with epoxy resins is also possible without any problems. The service life (durability) of the moulds is significantly extended.

The release agent Semiperm™ Monofilm is applied with a brush. After flash-off, an application of PARTALL® Coverall Film PVA is made, also with a brush or sponge. The PARTALL® Coverall Film PVA transfers to the casting are washed off with water after demolding and reapplied before each impression.