Vacuum sealing tape GREY, 3 x 12 mm x 15 m (up to 90 °C)
Vacuum sealing tape with protective film: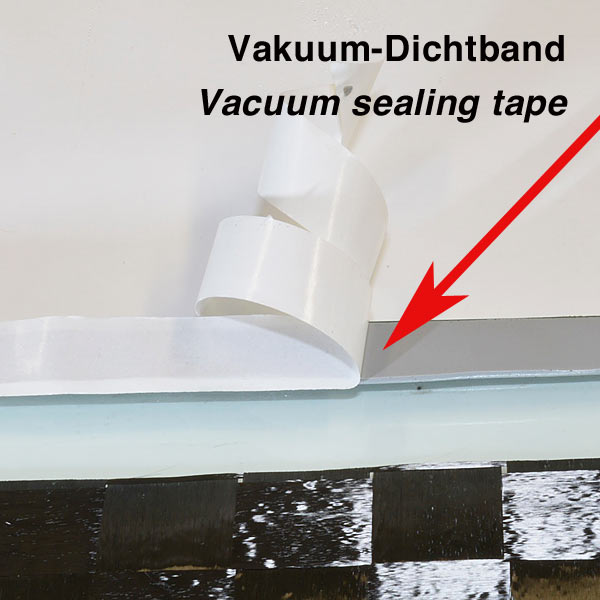 Permanently elastic sealing tape of synthetic rubber for fastening all types of vacuum films to the edges of moulds. On one side with removable backing film.
Good adhesion to a wide range of substrates
Good UV resistance
Good formability
Good chemical resistence to diluted acids and alkalis
Low resistance to organic solvents
Easy and accurate to use with little waste and no mess
Remains flexible throughout its service life
Technical data:
Dynamic tensile adhesion (N/cm²): 40
Dynamic shear adhesion (N/cm²): 12
90 ° Peel adhesion (N/cm²): 7
180 ° Peel adhesion (N/cm²): 8
Density: 1.7 g/cm³
Extensibility: approx. 140 %
Moisture vapour transmission rate (g/m2/24hr/mm): 0.17
Max. temperature: -40 °C up to +90 °C
Short term temperature range: 120 °C
Application temperature range: +5 °C up to +40 °C
Colour: grey
Dimensions: 3 x 12 mm x 15 m
Application:
Very well suited for sealing the openings in vacuum bags (film to film). Glues permanently, films can only be removed mechanically.
Good adhesion to GRP, aluminium, steel, wood, other plastics incl. PE.

Pre- and post-treatment of molds:
For easier release of the sealing tape from the mold edge, we recommend treating the mold with a release agent beforehand. Minor residues of the sealing tape on the mold can be removed with a cloth and acetone.
Tolerances:
Thickness: ± 10%
Width: ± 1 mm